What is 'Not Guilty'
Not Guilty is NOT a book about showing you that work/life can be done perfectly, because it can't!
It's NOT a diatribe on the inequalities of women in the workplace.
And it's NOT written for women who want to work full time or stay at home with their children full time.
Not Guilty is for career mums like you and me. Women who are passionate about their role as parents, but are also trying to enjoy a fulfilling career.
In Not Guilty I've applied the McKinsey 7-S Framework to the life of a career mum, demonstrating the seven aspects of a career mum's life that need to be aligned for success.
Order your copy now  to take the first step towards having a fulfilling career, happy family, less guilt and a genuine work/life balance.
To order the e-Book: Amazon/Kindle Apple Kobo
For customers outside of Australia click here to order your copy.
All author profits from book sales are being donated to charity Missionvale Australia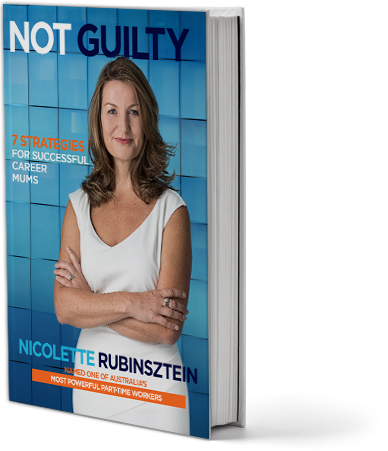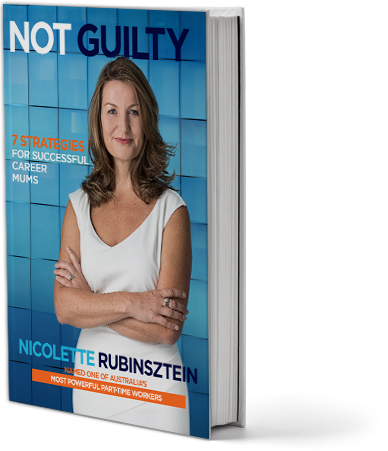 7 strategies for successful career mums






SHARED
VALUES
Making sure you are on the same page as your partner with the things that really matter
STRUCTURE
How working part-time lets you enjoy both motherhood and your career
SKILLS
Playing to your strengths by matching your skills to the right boss, job and company
STRATEGY
How to put your child first through your childcare strategy
STAFF
Working out how you and your partner can divide, conquer and outsource the rest
SYSTEMS

Embracing change and putting systems into place so you can maintain your work/life
STYLE
Managing your personal brand at work, your confidence and your relationship with your boss
Passionate about parenting but want a fulfilling career?
Well you're not alone. And you shouldn't feel guilty.
For over a decade now, I've been lucky enough to enjoy the best of both worlds, working part-time in senior positions in the corporate world while raising my three children.
And I've experienced both the highs, of wonderful happy children and career success, and the lows of out-of-control moments, tears, arguments, physical exhaustion and my anxiety levels going through the roof. Which made me think, "What if there was a guide I could have read before I started on this journey? One that was both strategic and practical."
Applying the principles of the McKinsey 7-S Framework—a strategic framework that is usually applied to businesses – I have created a guide that reflects both my own experiences as well of those of many female friends and colleagues. A guide on how to successfully negotiate my work/life balance.
Want to enjoy your days instead of just surviving them?
Let's be honest, balancing parenthood and your career can be totally exhausting.
But whether you're just beginning to think about starting a family or you're already trying to balance your career and your kids, Not Guilty can help you revolutionise your thinking and your life.
Want to find out more about how the strategies contained in Not Guilty can help you enjoy your days instead of just surviving them?

READERS REVIEWS
If you want a fulfilling career and time with your children as they grow up, this practical and strategic guide is a must-read.
GEMMA SUTHERLAND
EDITOR, BODY+SOUL
This book uses McKinsey's classic organisation framework and applies it to one of the toughest and most important areas of modern family life. The big insight is that all 7 of the "S"es need to fit together and reinforce each other and this book provides a very thoughtful and practical way to achieve that based on experiences that will resonate with any parent trying to juggle work and family.
ANGUS DAWSON
SENIOR PARTNER, MCKINSEY & COMPANY AND ADVISOR TO THE MALE CHAMPIONS OF CHANGE